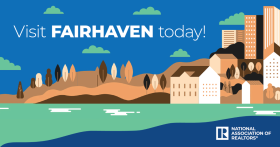 Hello Agents,
As we all know gas prices are a bit high at the moment so I thought.... Let's give away a gas card in exchange for doing something so easy and can sit and relax while doing it. Yes, I'm bugging you about taking Fairhaven! I know that I keep learning new things every day and I'm pretty sure no one is that perfect that you wouldn't want to have more knowledge, especially when it pertains to something that is talked about front and center all the time lately.... FAIR HOUSING.
So, here is the site you go on ....
https://fairhaven.realtor/home
Go ahead and take the 30–40-minute simulation. It is informative, actually a bit entertaining, and gives you a chance to win some jing. Once you have taken the course it automatically takes down your name as it is completed so I will know exactly who took the course. ALL of the agents whom have ever taken will go into the drawing for the $100 Gas Card from Kwik Trip, which will be held at the April Membership meeting. C'mon let's see how many awesome agents want more knowledge and be put in a drawing for a gift card.
Thank you for your time,
Shelley Vogel
Fair Housing committee